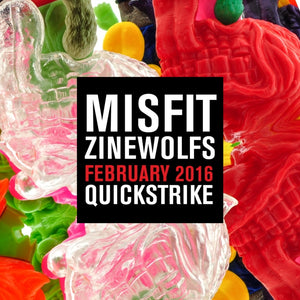 Zinewolf
[Quickstrike] —

Sale price

Price

$50.00

Regular price

Unit price

per
Vinyl figure cast in [random] mixed parts; 6.5" w/ [random] zine.
Even though it may seem like I do my absolute best to prevent—dissuade, really—you, my visitor, from being interested in anything I have here for sale, I actually am quite interested in the contrary.

Rather: I WANT you to find something here that you like and would be willing to exchange money for, and I DO pay attention to the things that you—in the at-large, general, average sense—seem to like.

Random, low-number smatterings of beautifully ugly blank mixed-parts Zinewolf figures seems to be one of those things that you sort of kind of like, and here now is a presentation of said items.

Each purchase will receive a random zine and a couple patches thrown in for good measure. The colors you receive in your wolf are randomly selected and there's no mechanism set up for specific requests at this time. Hope you have fun, bun.