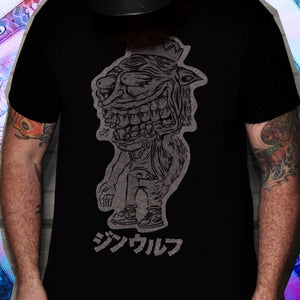 Zinewolf [Lynn Tobin] —

Sale price

Price

$10.00

Regular price

Unit price

per
Discharge printed on super-soft tri-blend blank.
Zinewolf is the flagship toy for ThereforeNul and is really a pretty big autobiographical statement for me. I love the toy, and more than that, I love the character.

But I can't really draw in any sort of traditional sense. So...

I asked several artists—friends, heroes, past clients, etc.—if they would be willing to collaborate with me to bring Zinewolf to life and render him out in their particular style or from their point of view...and the response I got back was incredible. I will eventually compile these masterpieces into a zine+toy release, but in the meantime, I made a shirt of this one.

Lynn Tobin—who used to go by Spitfountain on Instagram, but has since decided to age his game up a bit—is a local friend here in Sacramento who also helped with the header text for the initial Zinewolf toy release (it also appears on the cover of the first Zinewolf zine).

I asked him if he'd like to do a drawing of the character and within a day I had this incredibly vintage-feeling, beautifully brushed likeness staring back at me.

If Lynn was a toy, he'd be a Kenner Hoth/Empire Strikes Back Han Solo that had been buried in the back yard for a few weeks. It's only fitting that he gave me that version of my beloved Zinewolf to marvel at.