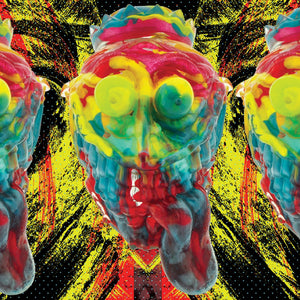 Zinewolf
3rd Anniversary —

Sale price

Price

$65.00

Regular price

Unit price

per
Vinyl figure cast in white vinyl; Clear mask w/ splatter paint and magnetic assist; 6.5". 
Comes w/ 40 page zine, stickers, and 3/4" enamel pin.
Zinewolf was born in July of 2014. The interesting thing about a project like that is that his gestation period, of course, was well in advance of that...by a year or more. He's been in my life longer than he's been in yours, but still, he's with us now, and that feels like a good thing.

I wanted to do something small (but loud) to commemmorate the ocassion, so I asked David if he'd be willing to get wild wtih my brand colors—red, teal, black, neon yellow—and this is what he came back with: pure genius.

The inside-paint on clear heads is something I've wanted to do for a while, and, well, I've done it now and it's perfect.

Note that this is a vinly companion to the also-commemmorative Guiding Lights handbook, a copy of which comes with this sexy beast.