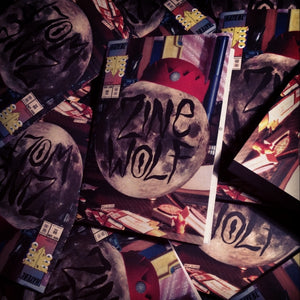 Zinewolf —

Sale price

Price

$0.00

Regular price

Unit price

per
20 page zine. Full color. Edition of 30.
The excitement (for me) surrounding this release is something I'll never forget. The plan was that the Zinewolf vinyl figure would be ready by SDCC14 and that it and I would be there to unleash unto the world it's power (grammar?).

The problem was, I wasn't quite SURE that was going to happen. And I'm a worrier. So instead of freaking out, I decided to create this zine which would stand as a nod to some of the influences and inspirations that I looked to when devising the slop-genius that is Zinewolf.

Includes an uncomfortably transparent excerpt from the original creative brief I delivered to Chad Turner, a co-worker of mine that did the turnarounds for the figure (he's amazing), as well as a particularly incendiary clip from Stephen King's 80s meta-horror classic 'The Jaunt'.