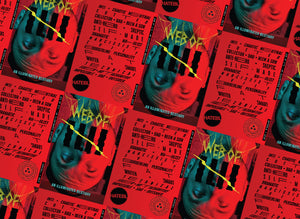 Web of I's — An Illuminated Bestiary —

Sale price

Price

$18.00

Regular price

Unit price

per
160 page trade paperback. Full color.
Towards the beginning of 2019, I set out to try and name/catalog the various facets and personalities that I felt swimming around inside my head. Honestly, it began as a private essay/diary project, ballooned into a smaller zine thing, and then ended up being born as a 4-month deep-dive into writing, designing, and charting various things.
I'm exceedingly proud of this book, but since its release, I've become increasingly curious why anyone would ever want to read a document like this. Sure: if I end up going to the moon or blowing up a mall it may end up having some significance, but otherwise, it's just a self-indulgent (to the max) volume that was painful/fun/cathartic for its author to create.