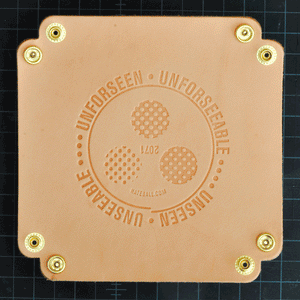 Unseen Valet Tray —

Sale price

Price

$35.00

Regular price

Unit price

per
Handmade 6" (4" snapped) convertible valet tray,
custom brass coin, and 3/4" enamel pin.
Constructed of Horween natural horse leather.
Some projects just happen. In this case, I was at one of my favorite places—the Scout Leather Co. workshop—and before I knew it, Joe was leading me through how to make a stamp and set up materials for a short-run of these awesome little valet trays.

And so I got to pretend I was Joe for an afternoon. And let me tell you: it took all afternoon. This craftsperson thing is no joke.

This product is great because it's a handy bowl for your little things during the day—great for desks or tables or nightstands—and then when you need to go somewhere, you can unsnap it and it packs flat. I...dude. I love 'em.

I use these all the time and will not be sad if you communicate to me that you do not understand/like these by not buying them because I will then just use them all over my house instead of just at my office on my workbench in my bathroom in my kitchen and on my nightstand.

This is also—I think?—the first time to snag one of the fidget coins I made as a part of the Dead Presidents Zinewolf release. I carry one around with me wherever I go because I like to do stuff like that. Maybe you will too.