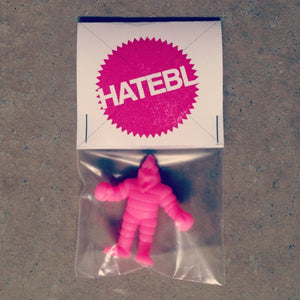 Unmuscle —

Sale price

Price

$0.00

Regular price

Unit price

per
Resin toy produced in conjunction with Healeymade.
I'm a pretty huge fan of MUSCLE, and had gone pretty far down the rabbit hole—this is maybe 2012—on making an online, to-scale photo reference site for all of the Mattel-released American remakes of the Kinnikuman figures.

And I started to think: these are great, but wouldn't it be awesome if Warsman's head was on Ashuraman's body? And what if The Mountain had Apollo's body? And so the 'Revisionist' project was born.

Honestly, a lot of stuff you're seeing and reading here was born as a part of this project. I owe a great debt to the amazing David Healey for taking on this project with me, as well as for not judging me when I clammed up and failed to sell any of these.

These were truly my first solo outing under the Hateball brand. Scary shit.