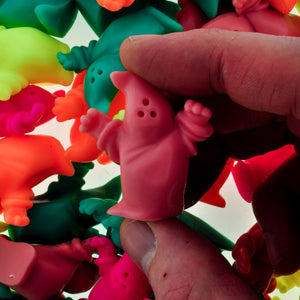 Therefore Ghost
[Assorted Neon] —

Sale price

Price

$8.00

Regular price

Unit price

per
Rubber treasure-box toy cast in assorted [random] neon colors. 1.5"
EDIT: I'm re-surfacing the below description from 2014 because I think it's incredibly charming (I'm charmed) and also very accurate and, well, I need to learn that just because something has been done already doesn't mean it's bad or can't serve a purpose in the here-and-now. It (the description below) was originally drafted to accompany the first, white, release of this little spooky ghost, but now he is being offered in a multitude (five: hot pink, flesh pink, neon yellow, neon orange, and mint-ish green) of bright colors for your enjoyment.

Of course, to put a wrinkle in things, and to also take a page out of the very classroom that yielded such a gloomy ghost: colors are distributed at random. You get what you get and you don't throw a fit.

==

As can be seen, felt, and heard throughout every corner of this website, I've always had a pretty strong fascination with the therefore symbol—∴—which is most commonly used in mathematical and theorem notation.

As can be seen, felt, and heard throughout every corner of my product offering, I have a thing for ghosts. I'm more or less fascinated by ghosts, moons, and certainly anything resembling a ghost moon.

And, as can be seen, felt, and heard throughout every corner of my life, I am desperately in love with my son Jonah, who at the time of this writing, is the four-year-old center of my otherwise empty life.

So when Jonah brought home a little rubber ghost that he pulled from the treasure box at school for being a good boy, and that ghost had two dots for eyes and a dot for a spooky 'O' mouth, and when I noticed that a simple rotation of the ghosts face would turn him into a harbinger of thereforedom, I decided to produce and sell this toy so that he could spread cheer into the lives of others.

Many thanks to Trutek for help with production. A stellar and shining fellow.