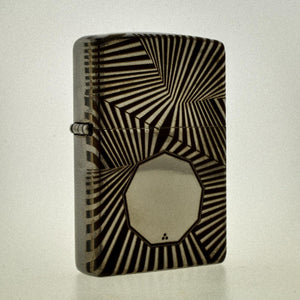 The Spook —

Sale price

Price

$40.00

Regular price

Unit price

per
Custom chrome Zippo™ Lighter, 20-page zine, and 3/4" enamel pin. (Lighter is etched on both sides.)
This is one of those projects that was more or less compulsory: I'm not entirely sure where the idea came from, but once it was there, it wouldn't let me go until I did something about it.

I did my best to document my reference and state my vision for the whole thing in the accompanying zine, however, and I'm surprised to say that I'm quite pleased with how these came out...both in terms of how they characterize the 'Hateball Look' and also with how ably they simulate and echo 'the real thing'.

I've debated on how best to showcase these to you so that you don't miss the fact that they're heavily marked on both sides, but I'm just hoping you click down here and see these photos. I also hope it's not lost on you that each lighter comes with a zine and a pin...both of which are otherwise not for sale and pretty special in their own right.

I hope you like this project but even if you don't, I'm glad I did it.

See also: The Grunt, and The Sailor.