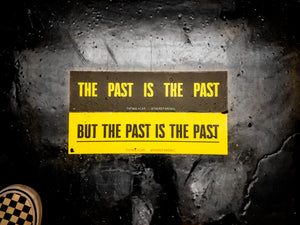 The Past is The Past Bumper Sticker Set —

Sale price

Price

$8.00

Regular price

Unit price

per
Set of two premium vinyl bumper stickers.This is an excerpt from one my my favorite books: Liberation: Being the Adventures of the Slick Six After the Collapse of the United States of America, by Brian Francis Slattery.

The teeny tiny mote of dust that I've extracted from that book is poignant and funny and deep and gonzo in all the ways the source material is.

It's my cyberpunk Grendel, and now I can put bumper stickers that mean something very specific to me but likely mean something different to everyone who sees it on stuff.
Trigger warning: this book includes non-glorifying references to human slavery.