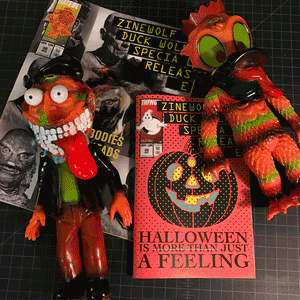 Monster Mashup —

Sale price

Price

$85.00

Regular price

Unit price

per
Random, Mashup figure cast in orange vinyl;
Assorted Head, Hat, Body w/ paint by Grody Shogun; 9".
Comes w/ 20 page zine, 10 page photo book, stickers, and 3/4" enamel pin.
In a startling twist of, er, just wanting to have some fun, I bring to you an incredibly fun and impossibly cool-looking project with Grody Shogun in which he and his masterful access to molds of all stripes and willingness to cut a joint into an otherwise jointless set of heads culminate into an entirely unique set of toys for you (and more importantly me) to enjoy.

This project consists of the Mummy, Frankenstein, and Creature bodies sculpted by Shikaruna and produced by Lulubell with both the Zinewolf and Duck Wolf heads.

Head head/hat combination appears on each body and will be sold at random. Duck head is somewhat 'lucky' in the ratios but all versions look amazing and are truly halloween-themed without being bound to any specific period or cultural thesis.

In addition—and as is my way—this release comes with a 20-page zine that dissects said cultural thesis, as well as a larger, throwback-y grocery-store-style photobook that documents the release.

Do. Please. Enjoy.