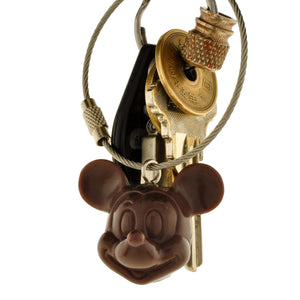 Mickey Keychain —

Sale price

Price

$10.00

Regular price

Unit price

per
1.5" Vinyl Keychain w/ steel cable ring.
Look: sometimes it doesn't have to make a ton of sense or have some kind of complicated backstory in order to make it into my treasure trove.

But! This kind of has an interesting little number behind it. One night Luke messaged me and said "hey there's this vintage Mickey multimold for sale do you want it?" I said "sure" and gave him my max bid.

Six weeks later I got a back of chocolate-brown Mickey Mouse heads (and a few tiny little bodies of unknowable repute) to go with them.

And then, like 4 months later, I figured out that I wanted to make keychains out of them. So here you go.