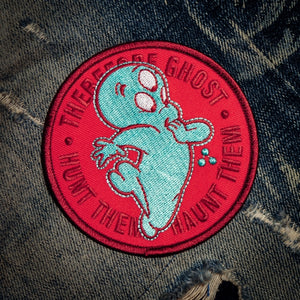 Haunt Them (HB Colors) —

Sale price

Price

$6.00

Regular price

Unit price

per
3.5" merrowed patch on bright red canvas.
Ghosts, dude. Fuckin' ghosts. You're gonna die. And when you do, you're gonna have a choice: are you a friendly ghost, or are you a hunter. A killer. A ghost that makes more ghosts. I like to imagine myself as a ghost who hunts in a friendly way. I'll make you suffer for a bit before I turn you into another ghost. And oh yeah, I see you with my face that's shaped like the therefore sign. You see me seeing you. And you're scared shitless.

Not to mention, I made this one in the fly-as-hell Hateball color scheme. Just shy of 3d. You can check out the murdered-out black/black version here. Because therefore ghost.