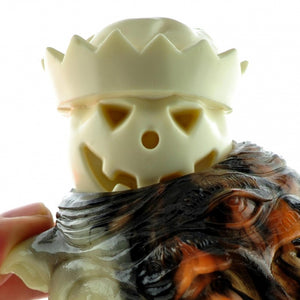 Gourdon [White]
w/ Bonus Droolids —

Sale price

Price

$18.00

Regular price

Unit price

per
Rubber treasure-box toy cast in white. 3.5"
+ 4pc Vinyl Playset
UPDATE: Because I'm feeling generous, each White Gourdon will be shipped with a bonus four-piece playset of Droolids cast in bright white vinyl.

Great Gourdon's Ghost! He's White!

Is this a spectral tribute? Or something more skeletal? The beauty of Gourdon is that he's cool with whatever fantastic, pigmentless theme you'd like to project upon him. Always smiling. Always standing.

You can read more about Gourdon's inception into the Treasure Box family here. Otherwise, please enjoy this little vanilla vandal. Cream culprit. White warlock.