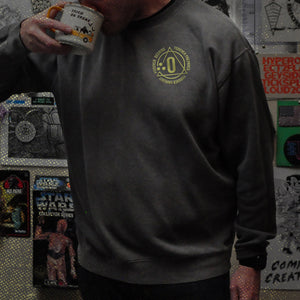 Forever Unready - Deluxe Crewneck —

Sale price

Price

$60.00

Regular price

Unit price

per
Deluxe pigment-dyed crewneck sweatshirt w/ glow-in-dark embroidered chest. Comes w/ magnetic lay-flat NFS enamel pin. Limited preorder item; expected to ship in May.
So much to say about these fun little spring cover-ups that I'm a bit tongue-tied and don't know where to start.

I've always wanted to do 'logo' merch. But! I've never really felt super confident with just putting 'my logo' on something and letting that be that. This, I suppose then, is the closest I've gotten to that: it's *essentially* my logo...with a few little extra bits thrown in.

I noticed in 2071 that I was having just as much or more fun designing the front 'pocket crests' of my capsule tees...which is what led me down this road.

These designs, then, are slightly modified for embroidery...a process that's not unlike making sure your deisgn works for silkscreening or laser-engraving. Being a pure-digital person learning how to deal with tactility is an ever-interesting journey.

And now, of course, for the fun details: These are sewn with glow in the dark thread. I'm pumped. The blanks are from Independent trading and are a nice, crisp—if slightly slim—body that should prove handy and comfortable on all but the hottest or very coldest days. Of course, a fantastic layer on any occasion.




I've also made these on a midweight crew, and as a part of this little micro-collection, there's a wonderful weather-resistant coach's jacket as well.

I hope you enjoy these little doo-dads as much as I hope to. Preorder open from 3/21 to 4/1, hoping to ship in May.

Note: these are digital mockups and the final product may vary in placement/color.