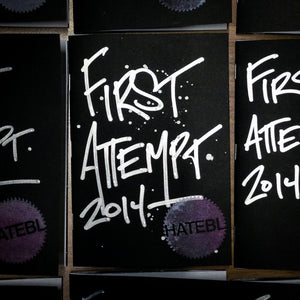 First Attempt —

Sale price

Price

$0.00

Regular price

Unit price

per
20 page zine. Black & White. Hand-cut/lettered cover. Edition of 25.
I wanted to make something. I had fun making zines with Brian Ewing for our Metacrypt project, but I wanted to explore the form in a much looser/sloppier way than that brand or that collaboration allowed for.

I started this project around December 2013 and it really signals a 'getting serious' about the Hateball brand, the products and projects I make, and everything else you see here. The contents of this zine are essentially past projects and collaborations with clients, friends, and people I admire.

Everything was hand-done on these releases...down to cutting the covers and hand-lettering the titles. The mechanicals and method for making my zines has used this one as a template ever since.

Contains the essay 'A Brief History of Un-'.