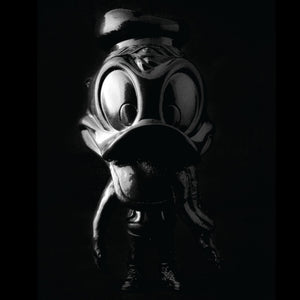 Duck Wolf [Is Ghost Of] —

Sale price

Price

$55.00

Regular price

Unit price

per
Kitbashed figure cast in black vinyl;
Duck mask w/ magnetic assist; 6.5". Comes w/ 20 page zine, stickers, and 3/4" enamel pin.
Trying to type and cry at the same time. It's...strange.

This is the first vinyl figure I've produced where I've had a hand in the production. Sure, my maneuvering and fighting with the impossibility of physicality was course-corrected and refined by the genius that is Grody Shogun (and Yuki!); a refinement without which the thing was a total mess...but, well, still: I touched the thing. I saw the thing lurking there. And I was brave enough (lol) to try.

Trying is not my forte.

So this is a big deal for me.

Not to mention that it also realizes—something that happened quite improvisationally and naturally...maybe that only means something to me but that is totally ok if so—the notion of Zinewolf as a platform. An identity platform.

As I've struggled with in the past (see, most recently and, ahem, angrily Faceless), the humanoid/kaijin figure of Zinewolf is, in fact, me. The mask—Zinewolf Proper or whatever—is an inflated or elevated state. An alteration. An apparition. That is all well and good, but—as any possessed person would ponder—I started to feel like the haunter was more popular—more recognizable, more accepted—than the haunted. Not my intention.

And so instead of attempting to divorce myself/itself from the ghost doing the haunting, I wanted to make sure it was known that I was not the exclusive property of any one altered personality. I'm a vessel. It runs through me. It runs through.

And lo: the duck. The shaky friend who nobody really knows. Nobody knows why he's content with postion #2. Nobody knows why everybody wants to talk about the times he gets mad but nobody wants to talk about the times he's just a fun dude. The duck. He is charismatic.

And now he is a part of my story.

Haunted Wolf Is Ghost Of Charismatic Duck Is Ghost Of Haunted Wolf. Behold.