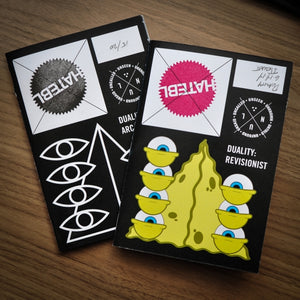 Duality —

Sale price

Price

$0.00

Regular price

Unit price

per
20 page split zine. Black & White.
Edition of 20.
I believe this was the third zine that I made, and—like with many things I do—it started as a perfectly aimless exercise in just wanting to 'make something'.

Soon enough, I relaized that it was time for me to sort of state my position on these two major themes I was exploring—Arcane Sigil and Revisionist—and so I decided to make a split/flip zine that would show process, exploration, and aborted ideas for both.

This one also marks the boldest expression of my obsession over the (original) Seele logo that appears in Neon Genesis Evangelion. Metacrypt—around the same time—was doing an Eva-themed release of Shub Zeroth, and we made bootleg NERV patches to commemmorate that release.

I'm intimate with this mark at this point and really fascinated with the power it seems to hold over me. Anyway.