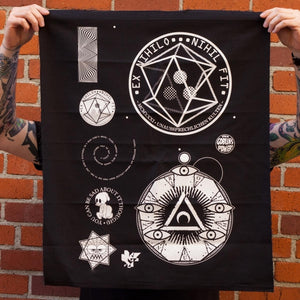 Back Gang '15 —

Sale price

Price

$18.00

Regular price

Unit price

per
30" x 22" on black denim. Meant to be cut.
White shown is sold out. Gray on black available.
So far, the biggest (and maybe only? Aside from drinking beer and eating pizza a BUNCH less...oh and candy...I guess there are lots of large bummers, but I digress) bummer surrounding losing a bunch of weight is having to buy a bunch of new clothes. I've discussed my process for this elsewhere, but it's also worth confronting a hugely ugly truth:

I needed to create a new vest for myself. :(

My old vest is just too big now, and all of the crust and grime and flair it's been caked with is trapped on it...it feels totally wrong to remove it. It is what it is. I must move on.

And move on I shall! A large piece of the vest puzzle is the 'back' patch, which traditionally—for me, at least—is a printed patch. As with the previous back gang, I couldn't decide which mark I'd like to fly, dorsal and huge, and so I created a ganged-up flat of logos and marks (and one insidiously cute little NERV 2.0 bootleg) and printed them up on Duck and Denim. Minimums, dog. Minimums.

You can benefit from these high minimums and purchase the whole sheet uncut and rob it for whatever meaning you like. If you are interested in procuring a version of this that's a bit less bright—a bit more Gray or Black—then please feel free to email me and I'll get you sorted out.