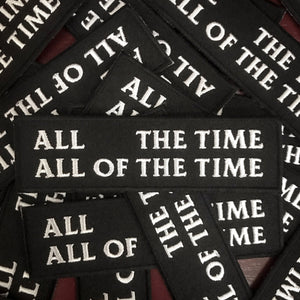 Airwaves —

Sale price

Price

$6.00

Regular price

Unit price

per
4" die-cut patch on black canvas.
As my love affair with expressing emotion via others' words in the Friz tradition proliferates, another item to confuse my embroidery supplier is born.

"The Shape of Punk to Come" is one of the best albums ever recorded. Period. It sits in a very narrow pantheon of gamechanging music that is at once stylistically unimpeachable and topically v. important.

While 'Liberation Frequency' took a backseat to 'New Noise' in terms of which song was the most popular off of this release, the message of the former is absolutely original, undeniable, and electrifying.

It makes one think. And it makes one angry. And it is the kind of thing that could potentially and possibly (but of course never will, which is sad) make us all do something.